All Christians must see this picture and know if we're not been enslaved
So many times,it has been said that Africans are being enslaved by white people, through Christianity.
It has also been said by most people who worship traditional gods that, Christianity is a religion or a way of life, which our Colonial masters brought,to impose their own religion on us so that we can practice their own religion.
In the olden days, our forefathers do worship, Sango, Ogun, Obatala, Osun, Ifa and so on. But,when the first colonial masters came (The Portuguese), they enslaved Africans, and took them to Portugal,where they were treated with much care, as they believe they are doing what the Bible's instructing them to do.
So, the first colonial masters didn't take slaves to their land to suffer, rather to take good care of them and this was when Christianity started gaining ground among Africans.
However, Christianity was brought by people,who were once enslaved in Portugal and United States of America, the like of Bishop Ajayi Crowther and the rest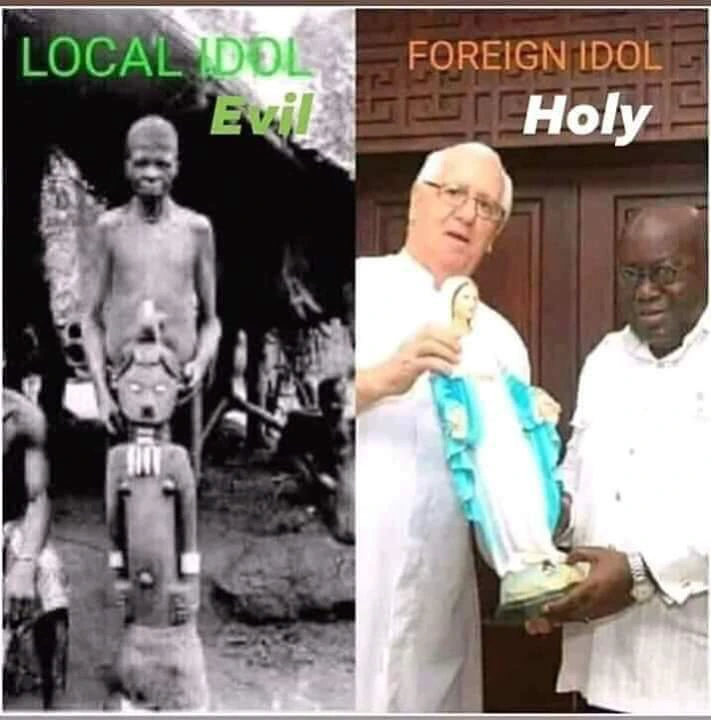 See this picture of the god our forefathers worshipped and the one the whites brought to use.
Fro