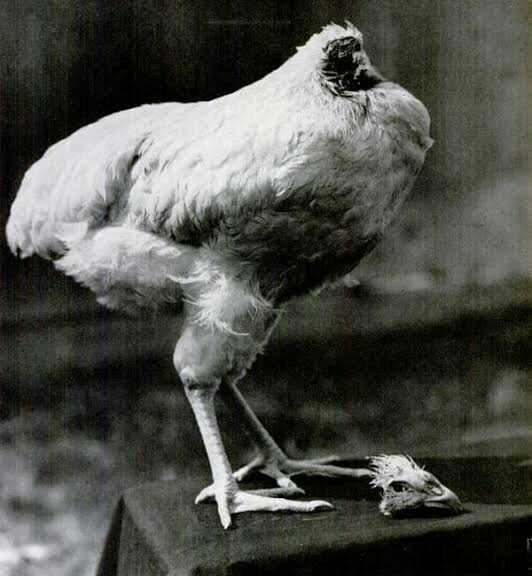 "Mike, Mike, where's your head? Even without it, you're not dead!" –A Schoolyard rhyme from the 1940's inspired by Mike the Headless Chicken.

Mike the Headless Chicken also known as Miracle Mike lived from April 20, 1945 to March 17, 1947. He was a Wyandotte chicken that lived for 18 months after his head had been cut off by its owner. Although the story was thought by many to be a hoax and farce, but the bird's owner took him to the University of Utah in Salt Lake City to establish the facts and its authenticity of the occurence.
On one cold night in the fall of 1945, Lloyd Olsen, a farmer from Fruita, Colorado headed out to the shed for the first step in preparing a delicious chicken dinner. He grabbed an axe with the intent of chopping the head off of the Chicken. The lifelong farmer, Olsen was a seasoned pro but this time he cut it a little too close. While the chicken most certainly lost his head, a tiny portion of his brain stem was left intact in the base of his neck and a cloth preventing loss of blood prevented the chicken from dying instantly. To Olsen's amusement, the chicken was still very much alive and he did not have the heart to finish off the job. When Olsen found the bird alive in the morning, the legend of Mike the Headless Chicken was born.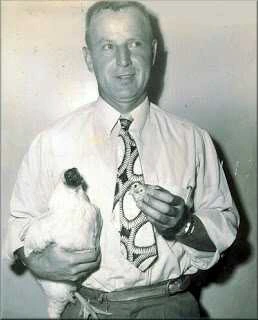 It was determined by scientific facts that the axe had missed the jugular vein of the chicken and a clot had prevented Mike from bleeding to death. Although his head was completely severed, most of his brain stem and one ear were left on his body. Since basic functions such as breathing, heart rate etc. as well as most of a chicken's reflex actions are controlled by the brain stem, Mike was able to remain surprisingly healthy.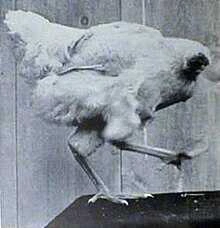 Mike the Headless Chicken lived for a full 18 months without his head,and is able to "eat" food through the hole in his neck. He had an impeccable balance and could even fly, but his rooster crow was more of a gurgle than a cock-a-doodle doo.
Mike went on tour across the country as a side-show act and was examined at the University of Utah, Salt Lake City and confirmed to be legitimate and true. Once his fame had been established, Mike began a career of touring sideshows in the company of such other anomalies as a two-headed baby. He was also photographed for dozens of magazines and papers, and was featured in Time and Life magazines. Mike was put on display to the public for an admission cost of 25 cents. At the height of his popularity, the chicken's owner earned US$4,500 per month which is approximately $51,500 today, Mike was valued at $10,000.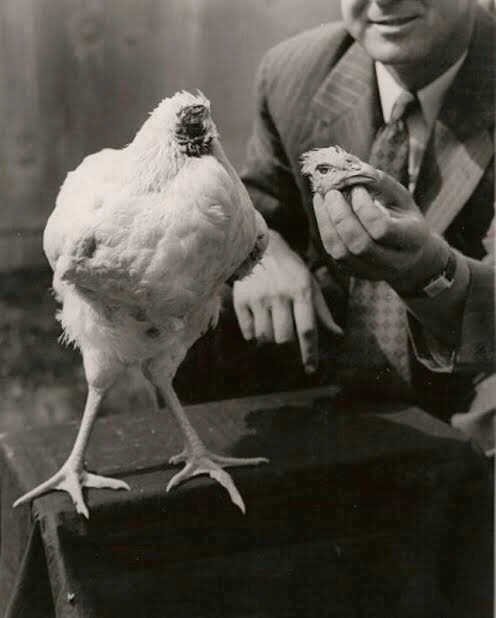 The headless bird finally died in March of 1947 when he choked late one winter evening. It was suspected that farmer Olsen got drunk and shared a flask of whiskey with Mike to celebrate their new-found wealth.
This is such amazing story which is hard to believe unless you witnessded it yourself. But Nevertheless, the facts and figures were proven to be true and real and very possible infact.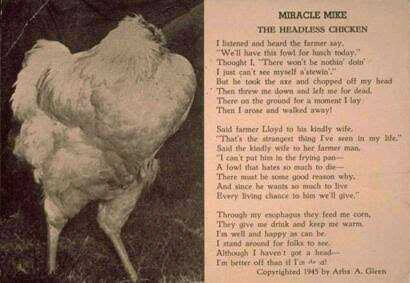 What do you think about Mike the headless chicken?…Let me know your thoughts in the comment section dowm below.
If you enjoy learning this true story and this article itself, drop a Like and Share…
Thanks for your time…
Content created and supplied by: The_Phoenix