I often hear people say charm is real, although i didn't fully believe that concept until what happened to me. A brief introduction about myself will kindly help.Am a business man, who is married with two kids, a boy and a girl. I sell electronics and have been doing it for over five years. The business is lucrative and has enable me to secure some assets. About couple month ago, i was very fortunate to purchase a car, that will enable my going to work to be easy. Moreso, i have a boy at my workshop who's like an apprentice to me, though we don't regard them as apprentice.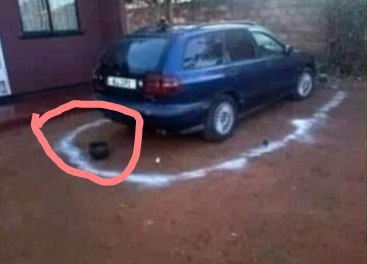 I used the car for a week and i really enjoyed every bit of that experience. However, i packed the car at my usual packing space, behind my window on a Tuesday night, the next morning what i saw really surprised me and it was scaring. I saw a white paint-like substance that circled my car and a pot behind my car. I was extremely scared and call my wife out of curiosity to look at it, she said she had no idea what could have happened.
Furthermore, i didn't go close to the car, and order my wife to refrain anybody from going closed to it. Because my belief was whatever that paint-like substance could be, might have some connection with charm. After about a week, I spoke with my Mechanic to remove the car from my compound. When the mechanic saw the paint-like substance they left and said they can't remove it.
Since that scenario, i have been managing to work with a taxi, i came back from work one faithful day and saw my kids playing around the car. I was surprised and shocked so i speedily rushed to rescue them, and i saw my wife laughing at me saying the paint-like substance was the handiwork of my first kid. She stressed that, she gave him pap to throw away and he end up using it to play and pour it round the car and left the pot there. After listening to her i was so infuriated and angry, but i also felt stupid at same time. I kindly request your opinion what kind of punishment should i give my kid? Use the comments section to drop your opinion, like and share with others.
Content created and supplied by