Meet 2 Nigerian Pastors Who Were Sentenced To Death
Religion has been used to justify a lot of violence that is currently taking place in Nigeria and worldwide.

However, in Nigeria, there have been countless religious leaders who as well, have directly or indirectly been responsible for numerous deaths. And the baffling thing about it, is that those who are involved in such, believe it is God's work they are doing. Which is a terrible thing to think.

The truth remains that these Pastors, knew what they were doing and they still wanted to execute their deadly plans, even after committing their lives to serve God.

Below are two Nigerian pastors that were sentenced to death.
Pastor Akolade Arowolo
A youth pastor of the Redeemed Christian Church of God (RCCG), in 2019, was sentenced to death by hanging. His name was Akolade Arowolo, and he was convicted for killing his banker wife, Titilayo.
The Late Titilayo was said to have worked with Skye bank. And as the case went to court, they were able to prove that Arowolo actually murdered his wife in their matrimonial home, because compelling evidence was found against him.
At the end of it all, "Justice Lateefat Okunu of the Ikeja High Court", gave Akolade Arowolo the death sentence.
A forensic report from a pathologist, which was presented in the court, was what was used to determine that the deceased could not have stabbed herself to death. Autopsy showed that Titilayo was killed by 76 knife stab wounds.
And to wrap the case up, police brought Titilayo's family members who correctly testified that the two couples had always had a quarrelsome marriage.
Reverend King
Chukwuemeka Ezeugo known as Reverend King was like any other normal Nigerian pastor who lead the Christian Praying Assembly Church (CPA) located in Lagos.
Unfortunately in 2006 problems began to arise, as a shocking incident took place at Rev King's residence. It was said that some members of his church were accused of fornication, and were thereby brutally burnt.
In a bid to eventually save these people, one of the victims who was still alive, was taken to the hospital but eventually died 11 days after her arrival. Her name was Ann Uzoh.
Reverend King was brought before the court to answer questions on the 26th of September 2006. The questions were based on "a six-count charge of attempted murder and he pleaded not guilty to all the charges".
However, on January 11th, 2007 he was sentenced to death by the Lagos State High Court, Ikeja, for the murder of Ann Uzoh. But the "Appeal Court sitting in Lagos upheld his death sentence in 2013".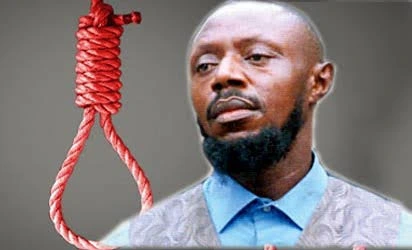 Throughout all the years that Reverend King had been in prison custody, a lot of his church members who were faithful to him had continually looked up at him and held their pastors image high. They still hailed him as the light of the world.