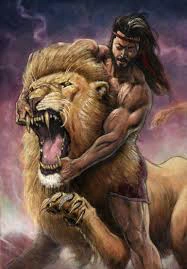 After Samson killed the lion in Timnah, he posed a riddle to the Philistines:"Out of the eater came something to eat; out of the strong came something sweet." (Judges 14:12-14)There are great lessons to learn from this riddle. Sometimes when we encounter challenges we panic uncontrollably and see the situation as the end of the road for us. And most times we ignore the verse of the Bible which expressed that God cannot allow challenges bigger than us to come to us.

Whenever you are confronting great challenges in life, you have to stand strong and face it because there is a power in you which is about to be revealed. Remember in that same Judges 14:6, it expressed that as soon as Samson heard the lion roaring, suddenly the power of God came upon him and made him strong. This indicates that in time of difficulties, troubles and challenges, the power of God will surely come to make you strong. Amen.

Whenever you are confronting great challenges in life, believe that you are a great person. Trust in the supernatural power of God, believe in yourself, believe that you possess the capacity and potentiality to overcome your challenges. Do not ever feel despondent. Believe in this saying: "your greatness in life is directly proportional to the challenges you face; and that is, the greater the challenges you overcome, the greater you become in life."

Do not allow your challenges to break you; let them make you instead. Do not let your challenges shatter you; let then mould you. Challenges in life enable you to experience and unlock the hidden abilities and powers God has deposited in you. And these abilities and powers will carry you to a greater level of convenience.

Do not ever look down on yourself for any reason thinking that you cannot achieve anything, whereas there are so many hidden abilities and potentials in you which will enable you grow in life. Remember Samson never underestimated himself, he saw the lion as his prey.

Do not run away from your challenges. Face it with all felicity. Remember that Samson did not run away from the lion. Fight whatever that tends to suppress you; fight whatever that tends to hinder you from actualizing your success and by the power of God, you shall experience a sense of victory and satisfaction so unique.

God bless you and grant you all the power to overcome your challenges in life. God bless you all. Amen.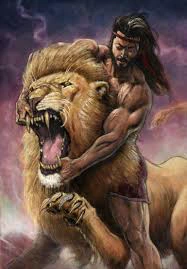 Content created and supplied by